---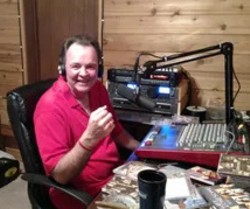 Big Al Weekly

Host of "Big Al Weekly & Sandy Radio Show"

Contact Big Al


Big Al Weekly Promo
Big Al Weekley began his career in 1987 at Ohio University.At that time he was a member of a local band, after performing on the radio He enjoyed it so much he asked the program director if they had an opening for a broadcaster, the answer was yes! He still played and toured with bands, but the main focus became radio broadcasting.
Also a musician and songwriter, Big Al Weekley has recorded throughout his career with Dave Dudley, Leroy Van Dyke, as well as a variety of Bluegrass stars, and recently had a song recorded by Bluegrass legend Larry Sparks.
Big Al has been the master of ceremonies for many Country and Bluegrass festivals, something he truly enjoys doing. He has been very involved with various charities, community and non-profit organizations to help raise money for those in need.
Big Al is the first recipient of the Old Time Country and Bluegrass Music Preservation Award which was given to him by the Miles of Memories Country MusicFest in September 2013. Big Al Weekley was also inducted into the Nebraska Country Music Hall of Fame in 2013 and has been nominated as one of the IBMA Top 5 Bluegrass broadcasters in 2003 2014 and 2021
Fifteen years after starting work at KRVN, Big Al Weekley made a big move. He left KRVN radio's 50,000 watt torch in the western skies to move back home to Virginia, packing his belongings into his Ford F-150 pickup truck and moving van, soon arriving in the great State of Virginia to carry out his mission. Wherever he broadcasts, one thing will remain, "Big Al" Weekley stays true to preserving the history of Bluegrass, Gospel and Country music and enjoys sharing the love of music to all that listen.
Read about Sandy Weekly..