---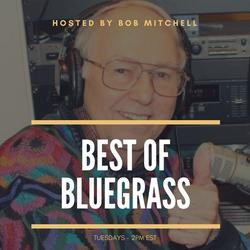 "Best Of Bluegrass"

Monday & Thursday 10:00AM
Friday-Saturday 4:00PM

with Bob Mitchell
About the program:
I am a reporting station for "Bluegrass Today", "Bluegrass Unlimited", and "Roots Music" Surveys.
Over 70 artists have been studio guests, including, Dailey and Vincent - Claire Lynch - Russell Moore & IIIrd Tyme Out - Valerie Smith - Becky Buller - The Lonesome River Band - Michael Cleveland - The Roys - Donna Ulisse - Tony Holt & The Wildwood Valley Boys - Kati Penn & New Town - David Davis & The Warrior River Boys - Rebecca Frazier - Jim Smoak (Bill Monroe's banjo player) - David Parmley - the late Al Hawkes (inducted Bluegrass pioneer) and Sideline.
There have been over 60 unique programs (entire 2 hours). For example - a labor day salute to working men & women - all humor to celebrate national humor month and April fool's day - lady's day (every song from a female artist) - a program to honor teachers and acknowledge the educational aspect of bluegrass music (every song had a message or lesson) - coal mining - trains - and an Easter program featuring all gospel songs related to the crucifixion and resurrection.
There have been ten tribute programs to showcase the life and music of one artists - Bill Monroe - Earl Scruggs - Tom T. Hall - Ralph Stanley - Pete Goble - Hank Williams - the late Liz Meyer (with all European or Canadian artists) - Mac Wiseman - Jim & Jessie McReynolds - and George Jones.
There have been six episodes (two hours each) titled "Bluegrass Goes Country" featuring bluegrass artists singing and playing in a "country style". One show was a tribute to Hank Williams and another was a tribute George Jones (which included selections form Jones' 1964 bluegrass release, "Bluegrass Hootenanny".)